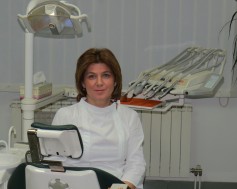 Specialized orthodontics practice, Ines Grebenar Fressl dr.dent.med. spec.orthod. has worked since 2009., when she succeeded orthodontic dental clinic from her mother, Vjera Grebenar Čorić dr.dent.med.spec.orthod., who started private practice in 1997., based on decades of dental and orthodontic practice and still often participate with advices and opinions on how to find optimal solution for individual patient.
          Ines Grebenar Fressl, dr. dent. med. spec. orthodontics graduated from school of Dental Medicine, University of Zagreb in 1995 and earned her specialist degree in orthodontics in Zagreb in 2001.
In the same year, she started working as a specialist orthodontist in the largest dental clinic in the country, dental clinic "Zagreb", better known as "Perkovčeva", where she worked with a team of top experts and gained immense and valuable experience.
            Beside standard therapy, we offer preventive and educational tips on hygiene and teeth protection. We use the most modern methods, using materials of leading manufacturers in the world, we constantly improve our practice through seminars, congresses, courses etc.
           During the therapy, we keep all relevant records and archive digital photos taken during all procedures.
 Give us your trust!
Become a member of a large family of satisfied users of our practice,
Private Specialized Dental Clinic for Orthodontics
Ines Grebenar Fressl dr.dent.med.spec.orthod.